YAAKOV & NAVA LEIBNER – City Directors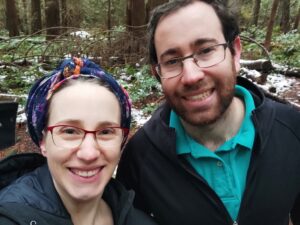 Nava and Yaakov Leibner were born and raised in the Jerusalem area, where they spent most of their lives.  They have four children.  Yaakov studied in Machom Meir Yeshiva, after which he got a B.E. in the education of the bible and history.  After that, he worked with kids and teens, teaching Jewish studies, agriculture and a love for the land of Israel.  Nava learned in Orot Etzion Midrasha, got a B.Sc. and worked in patents and a genetics lab.
Yaakov and Nava had an open house for teens in Israel and continue to do the same in Vancouver.  They aspire to have a home which will be a safe haven for all Jewish teens.  So drop by or send your kid for a shabbos, shabbos meal or whatever!